BIG as Bravery, Imagination and Generosity
BIG Kids Magazine is an Australian-made biannual creative arts magazine that provides an immersive, interactive and imaginative arts experience for children of all ages. One of the unique features of the magazine is that work done by kids and emerging/professional artists is published side by side.
I love the idea of this magazine and I was so happy when Jo and Lilly, co-founders of the magazine, asked me to contribute to their September issue. The request was to create three winged characters, each to reflect one of the following, 1.Bravery, 2.Imagination 3.Generosity which are the 3 principles of the magazine.
So here are my 3 characters which feature in the magazine. Three other artists feature as well, along with child artists from the Big junior editorial team. The idea is to collect a series of original character cards based on bravery, imagination and generosity. The magazine also features 3 blank template cards below for kids to be able to draw their own characters, cut them out and play. What a great idea !
Please take some time to browse the BIG Kids Magazine blog. BIG Kids Magazine is available internationally. You can subscribe and get your copy of BIG Kids Magazine delivered directly to your home. And what I really love about this project is that for each subscription received, a copy will be donated to children in remote communities, hospitals, shelters and schools through a 'one for one' scheme.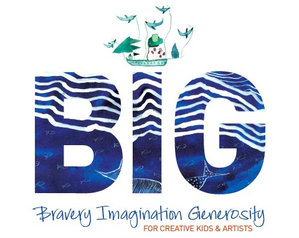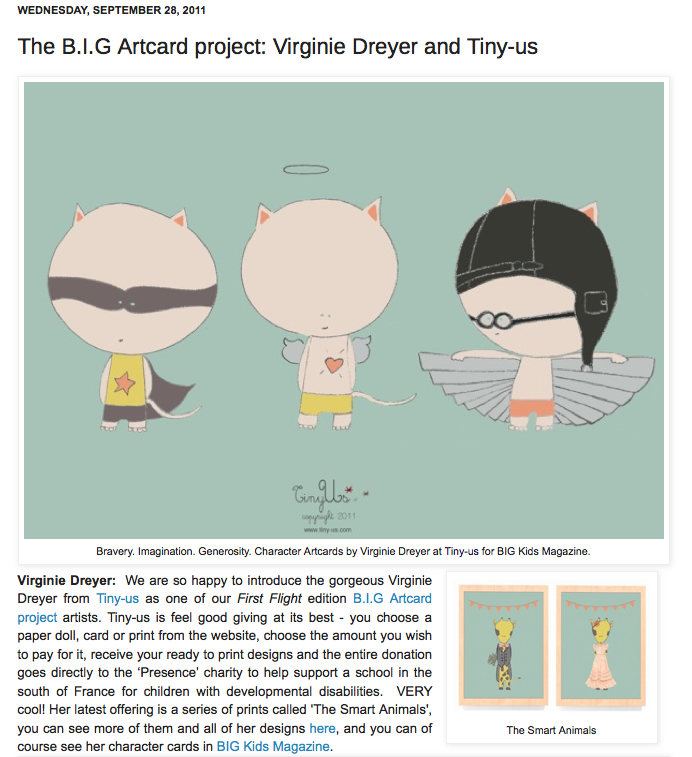 BIG Kids Magazine est un nouveau magazine Australien biannuel qui propose une expérience artistique interactive et imaginative pour les enfants. L'originalité du magazine est de publier côte à côte le travail réalisé par des enfants et par des artistes, en les faisant ainsi interagir.
J'aime beaucoup l'expérience proposée par ce magazine et j'étais vraiment très heureuse quand Jo et Lily, les charmantes cofondatrices, m'ont demandé de contribuer au numéro du mois de septembre. Il s'agissait de créer trois petites créatures ailées chacune d'elles représentant 1. le courage, 2 l'imagination, 3 la générosité, trois principes à la base de la création du magazine.
Voici donc mes trois petites créatures qui ont été publiées dans le numéro sorti le 1er septembre dernier. Trois autres artistes ont également été publiés ainsi que le travail réalisé par les enfants membres de l'équipe éditoriale du magazine. L'idée est donc de découper ces petites cartes pour en faire une collection. Le magazine a aussi créé 3 cartes laissées blanches afin que les enfants puissent créer leurs propres petites créatures, avant de les découper pour jouer.
N'hésitez pas à prendre quelques minutes pour regarder le blog du BIG Kids Magazine. Sachez que le magazine papier est disponible à l'international et que vous pouvez donc vous abonner et recevoir le magazine chez vous. En fin, ce que j'aime encore plus dans ce projet c'est que pour chaque magazine envoyé, un magazine sera offert dans une école, un foyer ou un hôpital. Générosité !
BIG Kids Magazine